Zenoss Community Day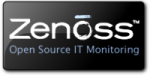 Zenoss will be offering a free training session to help Zenoss community members install and use the award-winning open source network monitoring tool, Zenoss Core. The class will be led by our Community Manager, Matt Ray and Zenoss Support Engineer, Nathaniel McCallum.
We would like everyone that leaves the event to have a good understanding of how Zenoss works and to be able to successfully manage their network using Zenoss' award-winning open source tools.
Zenoss will also supply lunch, and plenty of free Zenoss stuff.
For more information and to sign-up, go here.