Conference Info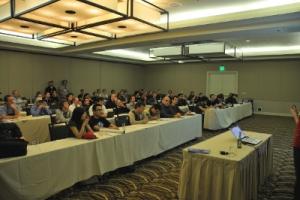 The premier Open Source conference in the U.S., now in its 8th year, has content for everyone! If you're looking to learn, choose talks from a developer's track, a beginner track, or one of the three general interest tracks.
If you're interested in chatting with the exhibitors, feel free to wander the Expo floor, with over 80 booths of open source folks eager to talk to you.
If you're an educator and are interested in what Open Source software can do for you in the classroom, or as an administrator what it has to offer, plan to attend OSSIE, the Open Source Software In Education seminar on the Friday prior to SCALE.
If you are interested in the role women play in the Open Source software field, we invite you to attend WIOS, the Women In Open Source conference, also on the Friday prior to SCALE.
If you'd like deeper content than you can get in a 45-minute seminar, check out SCALE University. It offers some in-depth training on selected topics.
IMPORTANT NOTE ON EVENT HOURS:
Sessions are Friday-Sunday.
The Expo floor is open Sat-Sun only.
---
For up to date information on SCALE 8x, join one of our mailing lists.