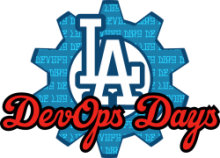 Welcome to DevOpsDayLA, the heart of Southern California's DevOps movement! As we step into our 13th year, we remain committed to fostering a local community of practitioners, enthusiasts, and learners in the vibrant landscape of DevOps in the SoCal region.
Event Details:
Date: Friday, March 15, 2024
Time: 09:00 to 18:00
Location: Pasadena Convention Center
Our longstanding tradition continues, thanks to the SCaLE 21x team, who graciously donate the Pasadena Convention Center venue space for our community's use.
Why DevOps Enthusiasts in SoCal Attend?
Local Expertise: Our conference showcases insights from SoCal's leading DevOps professionals, educators, and innovators. It's an opportunity to hear about local challenges, solutions, and innovations in our unique environment.
Diverse Topics Tailored to SoCal: Delve into how DevOps, with its human touch, shapes and optimizes various processes, including:

Automation
Testing
Security
Platform Engineering
Reliability
Organizational Culture
CI/CD
DevOps Practices
Career Development in SoCal

Networking with SoCal's Best: Interact with local evangelists, job seekers, business leaders, and budding enthusiasts. Share, learn, and collaborate in a relaxed and inclusive SoCal atmosphere.
A Global Touch with Local Roots: While DevOpsDayLA is a part of the international DevOpsDays series, our focus remains rooted in addressing the unique needs, challenges, and opportunities faced by DevOps practitioners in the Southern California region.
Supported by SCaLE: Our collaboration with the Southern California Linux Expo (SCALE) ensures a comprehensive and locally relevant exploration of the DevOps domain.
SoCal's DevOps Spotlight:
DevOpsDayLA is where Southern California's DevOps narrative comes alive. Our conference zeroes in on the synergy between Software Development (Dev) and Operations/IT Infrastructure (Ops), celebrating our region's dedication to continually delivering high-quality solutions. Here, local DevOps practitioners and interested parties unite, share, and evolve.
For more insights, inquiries, or to become a part of our growing community, please contact us at los-angeles@devopsdays.org. We're excited to journey with you in the world of SoCal DevOps!
When:
Friday, March 15, 2024 -

09:00

to

18:00