Robinson Tryon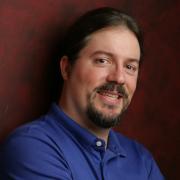 Director of Open Source Strategy
Robinson has over a decade of experience in FOSS development, organization, & outreach, with an emphasis on Serious Games in medicine, security, & higher education.
Currently serving as the Director of Open Source Strategy at the LOT Network, he was the Senior QA Engineer for The Document Foundation, the German non-profit behind LibreOffice & DLP, as well as coordinator of community outreach & education. At the Interactive Media Lab at the Geisel School of Medicine, he worked on interactive training programs for doctors & first responders. At Tiltfactor Game Lab for Digital Humanities at Dartmouth College, he served as technical consultant on diverse projects including Metadata Games, a FOSS game suite for libraries, archives, & other institutions to crowdsource metadata collection.
Robinson received his BA in CS from Dartmouth College. He is a regular speaker at FOSS & Tech Conferences in the US & Europe & serves on the Engineering Steering Committee for The Document Foundation.