UpSCALE Talks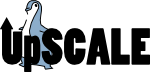 For the first time ever SCALE will be holding its own version of "Ignite" talks. Ignite is a style of presentation where participants are given five minutes to speak on a subject accompanied by 20 slides. Each slide is displayed for 15 seconds, and slides are automatically advanced. The first Ignite talks were held in 2006 in Seattle, Washington, and were sponsored by O'Reilly Media and MAKE magazine. We have dubbed our version of these talks UpSCALE talks.
The UpSCALE talks will be taking place on Friday the 19th at 8pm in Theatre.
UpSCALE 2010 Speakers
Michelle Hall - "So I married a geek... now what?"
Dwayne Fontenot - "Live Patching of WebOS"
Alexandro Colorado - "OOo4Kids and Education"
Amber Graner - "Volunteer Vertigo and High-Tech Hangovers"
Michael Fair - "A true 'Free Software' business model"
Christian Hergert - "Hitchhikers guide to the Linux Desktop"
Owen DeLong - "IPV6: The light at the end of the tunnel"
Emma Jane Hogbin - "Lessons from Life Coaching"
Jon Phillips - "Totally Free Network Services"
Josh Berkus - "How to Destroy Your Community"