Michael Starch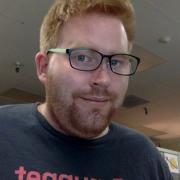 Jet Propulsion Laboratory, California Institute of Technology
Many years ago amongst the snow drifts and tundra of the great frozen north, Michael Starch earned his Bachelor's degree in Computer Engineering from the University of Michigan. Leaving his beloved homeland behind, he started a career at NASA's Jet Propulsion Laboratory in sunny Pasadena. He has remained there ever since working as a developer, operator, engineer, and open source community manager on a myriad of projects and missions. He also mentors at San Marino High School on Fridays.
Over the years, Michael has dabbled in big data research, ultra scale cloud computing, high-end data systems, and software destined for space. Currently he is working on embedded frameworks applicable to NASA's small-scale spacecraft, and is applying those frameworks to robots bound for other worlds.
Michael is a member of the Apache Software foundation and has volunteered for the ScaleAV team for many years right here at the Southern California Linux Expo.