Ross Brunson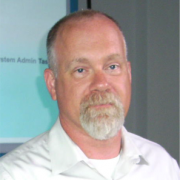 Presentations
Ross Brunson is the Certification Architect at SUSE Inc. where he manages the conception, creation and execution of all SUSE technical certifications. A skilled and experienced technical presenter, he works to provide sales and technical staff with the tools, education and support they need to solve customer problems using enterprise open source solutions.
Beginning in the US Army with work on Unix battlefield simulation systems, Ross has been a consultant, trainer and presenter for nearly 25 years, including positions at Learning Tree, Novell, LPI, Platinum Technology and Thomson Learning and SUSE 2x.
He serves on the Technical Advisory and Advisory Councils for CompTIA, Linux Professional Institute and the Open Source Software Institute and has authored numerous technical industry books, including the most recent CompTIA Linux+ / LPIC-1 Cert Guide from Pearson.