TEKsystems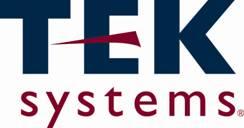 TEKsystems® provides technology staffing and services, helping businesses deploy high-caliber IT and communications expertise under a range of delivery options including Staffing Services, Infrastructure and Application Services, Global Services, and Workforce Management Services.
Ranked by Staffing Industry Analysts, Inc. as the nation's top IT staffing firm, we've become a billion-dollar services company by continually building on what we do best – blending superior client service with an unrivaled ability to source and manage IT and communications talent, resulting in successful technology executions.
Our offerings address a wide array of applications, infrastructure, and communications needs including technology deployment services, enterprise software support services, and asset management services. Our commitment to customer service has also led to the development of market specializations as a further way to put our expertise to work efficiently and creatively.
For more information visit http://www.teksystems.com