Glenn Hope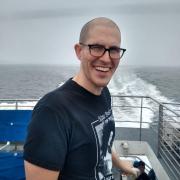 Presentations
Glenn is on hiatus, reading and writing.
He started his career working with supercomputers at the National Institute for Computational Sciences at Oak Ridge National Lab, then went to Facebook to join Site Reliability Operations, where he received a baptism by fire as the single-point-of-failure oncall for the entire company.
Later, he wore many hats as a Production Engineer - first in FB's DevInfra org, working on everything from physical device testing for mobile phones to running Chef in containers at scale, and then at Instagram as the team lead for Signal Engineering, working to support the systems that allowed for hundreds of server diffs to be deployed independently and safely each day.
His last two years have been spent on that much-needed hiatus, working on personal hobbies: helping port Rust to the Sony PSP, building a client-side search library for language acquisition, playing bass guitar, breathing new life into old tech, and learning to speak Taiwanese Hokkien.