Measuring Local Government Investments in Arts and Culture: Why an Open Data Approach Matters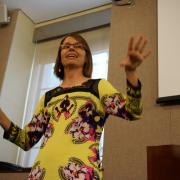 When the Los Angeles County Board of Supervisors passed a countywide cultural policy in 2020, they mandated that all departments provide services and allocate resources to ensure that every resident of the county can "participate fully and equitably in cultural life through the arts." The next step was to discover how and where all departments were already investing in the arts. This presentation will explain how data were collected, analyzed, and presented, focusing on challenges faced and lessons learned for developing cross-departmental open datasets. 
While compiling the data from arts-related departments was relatively easy, collecting data about arts programming or arts-supported projects from non-arts departments proved challenging. Each department collects different types of data in different formats, and most do not have specific budget line items designated as "arts." An initial survey instrument proved not to be useful. Ultimately, individual interviews with department representatives were required. Departments were allowed to provide data in any format they preferred, which included database exports, spreadsheets, PDF flyers, emails, and verbal reporting. Data then had to be structured and cleaned for analysis and reporting. 
The final open dataset is based on zip codes, as this was the most commonly used geography. For aggregation, a "count of programs" by zip code ultimately replaced a dollars per zip code approach. Because of pandemic closures to many arts and culture programs funded by LA County, a "representative year" was constructed, made up of data from the most recent year of relevant data available for each department or program. Contextual data from Census and other sources were incorporated, in order to conduct an equity analysis. The findings are presented in a storymap, using a series of ArcGIS maps and equity dashboards along with narrative and descriptive text appropriate to a general audience with interests in arts and culture (https://lacountyartsdata.org) 
Findings from this study will be used to set priorities for future arts and culture investments by the Board of Supervisors and the Department of Arts and Culture. It is a tool that can be used to address historical inequities and support communities through the arts, especially at a time when we are still rebuilding from the pandemic and responding to the social justice reckoning that began in 2020. 
Publishing the open dataset that underlies the findings was also critically important, as we want the public we serve to engage with the data. For them, it can be a tool to not only to understand how County funds are being invested, but to advocate for more arts and culture services in their communities. However, simply publishing a dataset is not enough to ensure that people will use it. In April 2023 we will bring the arts and culture community together for an Arts Datathon, where we will share the dataset with them and provide background information and guidance on how they can use it. We hope to inspire the arts and culture community to dream up new ways to analyze and visualize that data, then share it publicly. We hope their use of this open dataset can help us see the work we do and the services we provide from their point of view, to inform and improve our work. 
Time:
Friday, March 10, 2023 -

13:00

to

14:00