Home Labs for fun and !profit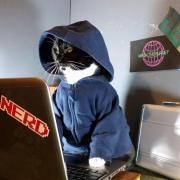 Why we are here - 
This is not a demo of everything in my home lab
It will include some info on honeypots, but just a little
k8s (k3s) is fun, but has been known to cause breakups
Why are we here!
Toys are fun
Security is fun
k8s is fun
I like breaking things
I like building things
I like breaking things I build
LEARNING NEVER ENDS!
In this talk we will cover basic hardware and software, especially focusing on virtualization, containers, k8s (k3s) and distributed management using Ansible. We will also cover how to manage multiple distros for learning, as well as a brief introduction to honeypots within your lab.
Home labs for learning and applying what you learn is important for both Linux and Security - and this talk brings them both to the table with active (recorded) demos, all on a shoestring budget. 
This is not your mother's home lab - this is about having fun while learning hardware techniques as well as virtualization, containers, security and just making it FUN! That is what is missing in so many home lab discussions. 
And who knows, you might even learn a little bit about SDLC in the process - (that's "Secure Development Lifecycle, BTW)
All this and Dancing Flamingos? Wow! What a deal!!
Time:
Saturday, March 11, 2023 -

16:30

to

17:30