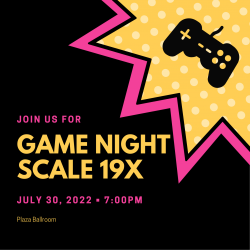 Join your fellow SCaLE attendees for drinks, games, food and fun at our Game Night reception on Saturday with music provided by MC Frontalot!
Casino Night
Beat the odds and enjoy gambling fun with our Casino Night theme this year.  We have Poker, Blackjack, Roulette, and Craps. Join us for the opportunity to test your gamblin' skills. 
Escape Rooms
What's the perfect activity to complement a casino night party?  Gather your friends and rob Casino Night!
Your team will have to conquer a set of puzzles to break into the casino party's safe and clean out the casino owner's cache to win. Winners get to use the extra chips from the safe to play at the casino party games. 
Newly added this year, an escape room that goes beyond the walls of Game Night! Is your team fast enough to run around the Hilton to solve this Escape Room puzzle? 
Also, a VR based Escape Room. Get a group of friends, old and new, and experience a co-op VR based Escape Room.
The team with the fastest time wins prizes.
Virtual Reality Realm
Join the magicians behind the black curtain in our VR Realm.  Our staff will teach you how to play in 3D space.  It is an unforgettable experience. 
Arts & Crafts
Dive into our art supplies and get creative.  Last year's bead work was beautiful.
Movie Night
Our little theater will be playing family friendly movies all night in the Quiet Room.
How Game Night Works
Game Night starts late enough to give everyone time to grab dinner first. This year we will open the doors to everyone at 7:00 PM.  To keep you going we serve a reception at 9pm, and late night snacks at 10:30pm.  And once again, look for the new dessert surprise!
When:
Saturday, July 30, 2022 -

19:30

to

22:30