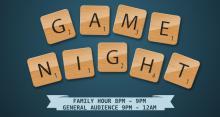 Join your fellow SCALE attendees for drinks, games, food and fun at SCALE's 7th Annual Game Night on Saturday.  Here's a lineup:
Brand new, and totally fascinating:  The VR Realm
Enter the VR Realm in one of our back rooms, and find out how open source opens up the third dimension.
It's baack, and gigantic:  Laser Tag
Play all night.  Just don't get run over by a tank.
What About the Nerdy Museum?
The SCALE Museum is a display of historic technology, computing devices and other clever gadgets that belong to SCALE attendees.  It's back by popular demand, and growing in size.  If you have vintage technology or a geeky gadget you'd like to show off, contact lori@socallinuxexpo.org.
Other Family Friendly Fun
Get silly in our Photo Booth
Avoid the tilt at our Arcade of vintage video and pinball games
Race your remote controlled Star Wars Droid
Test your skills at the Nerf shooting range
Fight to the death at the Battlebots Tournament
Play Lilliputian Chess and Checkers, giant Video Games, and build with giant Legos at the Garden Party
How Game Night Works
Family Hour runs from 8-9pm, that's when children bring their grownups and we have special entertainment and kid prizes.  After 9pm, the doors open for general admission, and we party until midnight.  To keep you going we serve a reception at 9pm, and late night snacks at 10:30pm.
When:
Saturday, March 4, 2017 - 20:00