Ubuntu: The Past, Present, and Future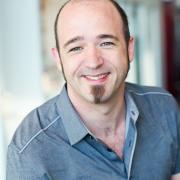 Jono Bacon spent eight years at Canonical as the Ubuntu Community Manager and was one of the most public representatives of Ubuntu. He left to join the XPRIZE Foundation in May 2014.
In this new presentation Bacon shares the behind-the-scenes view of how the company grew, faced new challenges and opportunities, and handled crises and controversies. He will delve into some of the biggest events in Ubuntu from Bazaar to Unity to Ubuntu Developer Summits to Juju and more. You will hear the inside view of what happened and why.
Bacon will also share his views on the company today and the road ahead for Ubuntu across the desktop, cloud, and mobile. Leaving a companies gives everyone a different view, and he will share it here.
...all presented in a frank and fun presentation, complete with the first commercial Ubuntu handset, and a full Q&A.
Time:
Friday, February 20, 2015 -

11:00

to

12:00