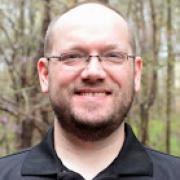 Cumulus Linux's Scott Suehle, half of SCALE's first husband-and-wife presenters at the event, will give a presentation on "Penguins All the Way Up" on SCALE Sunday at 3. The SCALE Team caught up with Scott and asked him about his talk.
Q: Could you please introduce yourself and tell us a little about your background?
A: Hi, my name is Scott Suehle, and I am Community Manager for Cumulus Networks. I am a reformed support junkie turned community support junkie. I have covered the spectrum in software companies from very closed-source to the very Open Source. My current company creates Cumulus Linux which is a Linux distribution for bare-metal switch hardware. Just a voice in the charge to power the network revolution.
Q: You're giving a presentation on "Penguins All The Way Up." Without tipping your hand on the actual talk, can you give us an idea of what we might expect?
A: My talk is sort of a overview on the realm of open networking and what is involved in it. I have some history and some humor. Mostly I want to give people a sense of what is available in the networking world outside of Cisco and how Open Source and the tools we use and love can help with that.
Q: Is this your first visit to SCALE? If so, what are your expectations? If not, can you give us your impressions of the event?
A: This will be my second in-person SCaLE. I enjoyed my last trip and I am looking forward to returning this year as a speaker. I have watched a couple of previous sessions remotely. I am sure this year will not disappoint.
Q: Is there anything else you'd like to add?
A: I am sharing a time slot with a couple other great talks. If you want to hear the good news about Linux and the open network don't hesitate to stop me in the hall or check out our community: https://community.cumulusnetworks.com/cumulus
SCALE Team interview by Dennis Rex
--