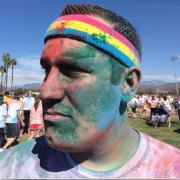 Patrick O'Connor will be giving a presentation on "Templating Your Infrastructure" at SCALE 13x Sunday at 4:30. The SCALE Team caught up with Patrick and talked to him about his session.
Q: Could you please introduce yourself and tell us a little about your background?
A: Hi! My name is Patrick O'Connor. I started my career working at your typical IT guy at a small law firm in the Inland Empire managing everything from the time on the microwaves to the Exchange servers. While attending college at CSU San Bernardino, I began working for my professor Ken Han in the Linux computer labs, this was my entry into the Linux world. From the Linux labs, I moved onto Systems Analyst at the same university (great for tuition benefits) while I finished my degree, supporting enterprise services and Linux systems for the campus. 
After attending an LA DevOps meetup at DreamWorks in 2013, I was offered a position as Engineering Systems Administrator at DreamWorks Animation. I grew a lot while at DreamWorks and made great connections, managed a few thousand node render farm, worked on new business initiatives (startups within DreamWorks), and the central systems team for deployment, imaging, and infrastructure services. Recently, I've moved "across the street" to The Walt Disney Company where I'm currently working as a Sr. Systems Engineer supporting their big data and business intelligence pipelines.  
Currently, I enjoy configuration management, machine/environment provisioning, service discovery, continuous integration and containerization. I've had many great mentors along my journey, and I'm still at the point in my life where I believe my journey is just beginning. I'm excited about what the future holds and the great people I'll meet along the way.
Q: You're giving a talk on Templating Your Infrastructure. Without tipping your hand on the actual talk, can you give us an idea of what we might expect?
A: I came from an environment where there was a need to stamp out cloud deployments from start to finish with the knowledge that the frequency of these deployments would increase in the near future. I set out to automate an end-to-end solution where services were ready as defined, this required deployment of all the dependencies along the way. My talk will cover the general idea of getting to running services when you're starting from scratch in a new cloud provider or region.
Q: Is this your first visit to SCALE? If so, what are your expectations? If not, can you give us your impressions of the event?
A: This will be my second year attending SCALE, last year was my first time attending. I wasn't sure what to expect my the first year, I knew some names in the community, they gave positive feedback about the event, so I decided to try it out. Everything was well executed from the very beginning (registration/sign in) until the end. I couldn't believe how much of a conference I was experiencing for the price. What really stood out to me the first year were how many people were contributing to the success of SCALE, the volunteers, the sponsors, the coordinators, it all pulled together very nicely, and I know they were to thank for that. This year, I'm excited to hear all the great presentations that are in store and can't wait to attend so many of them myself.
Q: Do you really know about "Templating your Infrastructure?"
A: Nope. I sometimes set goals like "get in front of people and talk about foo" as a motivator to learn new things. If I didn't sign up to speak at SCALE, I probably wouldn't have done all the work necessary to make myself comfortable to discuss topics in front of people.
Q: Is there anything else you'd like to add?
A. As a new comer to SCALE last year, I was unaware of all the other events around the main conference, for new comers (and myself even this year) I encourage you to check out other events such at the Birds of Feather talks, the game night and other side events that occur around the conference, there are a ton of great people out there to meet!
[SCALE Team interview by Larry Cafiero and Garick Chan]