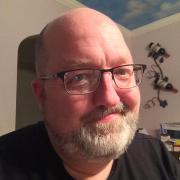 SCALE veteran Brian Proffitt will be giving a talk on "Finding the Value of Community" on SCALE Sunday at 11:30. The SCALE Team caught up with him to ask him a few pertinent questions.
Q: Could you please introduce yourself and tell us a little about your background?
A: My name is Brian Proffitt, the Principal Community Analyst for the Open Source and Standards group at Red Hat. I am mainly responsible for social, written, and video media content for OSAS and all of the open source projects OSAS supports.
Q: You're giving a talk on "Finding the Value of Community." Without tipping your hand on the actual talk, can you give us an idea of what we might expect?
A: There is this notion that community is some kind of drag on the bottom line of any company that tries to implement it. But there is real value in community that can actually show up in black on the financials. That's what my talk will be about: getting the value from community.
Q: Is this your first visit to SCALE? If so, what are your expectations? If not, can you give us your impressions of the event?
A: This is one of many visits to SCALE. I have always been impressed with the diversity of this community and the depth of the content presented.
Q: Is there anything else you'd like to add?
A: Looking forward to getting together with friends and colleagues in the hotel bar -- oh, wait....
SCALE Team interview by Larry Cafiero