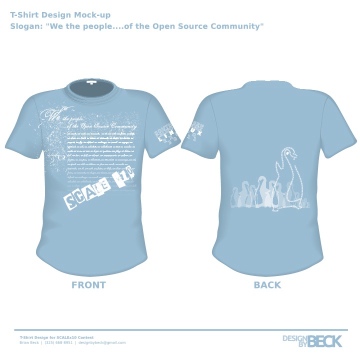 The results are in for the SCALE 10X Design Contest.The winner is Brian Beck of San Angelo, Texas, for his design, "We the People of Open Source."  A larger version of the image is available here.
Runners-up in the contest are Jennifer Rosenberg and Sirko Kemter in third. We will be posting a gallery of the entries in the next few days to show case the impressive designs submitted by the FLOSS community.
Brian wins an trip to Los Angeles for SCALE 10X, including admission to the expo and accommodations. As runners-up in the contest Jennifer and Sirko win a SCALE 10X "swag bag," plus admission to SCALE 10X
if they are able to attend. A REMINDER: The Call for Papers for SCALE 10X closes on Thursday, Nov. 17. If you're planning to give a talk or would like to organize a workshop, please do not wait until the last moment to submit your session.