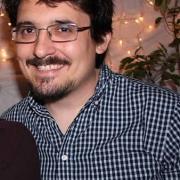 Jason Brooks took some time to talk to the Scale Team about his presentation, "oVirt: open your virtual data center". Jason is speaking on Saturday at 6PM in the La Jolla room.
Q: Could you please introduce yourself and tell us a little about your background?
A: My name is Jason Brooks, and after 12 years as a tech journalist, reviewing products and projects with eWEEK Labs, I'm now working for The Man. The Shadowman. I've been part of Red Hat's Open Source and Standards team for just over a year now, where I've been channeling my frustrations about difficult-to-test-drive open source projects into making projects like oVirt easier to test drive.
Q: Without tipping your hand on the actual talk you're giving (unless you want to), can you give us an idea of what we might expect?
A: I'm going to be talking about the oVirt Project -- what it is, where it came from, how it fits in the virtualization landscape, and why you should care. In our lab at eWEEK, we were big VMware vSphere users, and while I was in a position to swap VMware out for an open source alternative, I never came across a project that delivered the features we needed without some open core-style strings attached. I use oVirt every day now for my project test needs, so I have plenty to say about it -- and that includes constructive criticism about what still needs improvement.
Q: Is this your first visit to SCALE? If so, what are your expectations? If not, can you give us your impressions of the event?
A: This will be my first visit to SCALE. While a member of the press, our enterprise IT reader focus kept me attending mostly buttoned-down vendor-run conferences. I've always heard great things about SCALE, though -- there's always a ton of community buzz surrounding the event. I'm excited to be part of it this year!