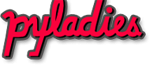 PyLadies is an international mentorship group with a focus on helping more women become active participants and leaders in the Python open-source community. Our mission is to promote, educate and advance a diverse Python community through outreach, education, conferences, events and social gatherings.
PyLadies also aims to provide a friendly support network for women and a bridge to the larger Python world. Anyone with an interest in Python is encouraged to participate!
We are a group of women developers worldwide who love the Python programming language.  We write code by day or night.  Some of us hack on Python projects on the side, while others work full-time on Python development.  But it doesn't matter.  We all just like writing Python code, and that's what brings us together.