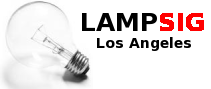 The Los Angeles LAMP Special Interest Group (LAMPsig) is an off-shoot of the Linux Users of Los Angeles (LULA) group. LAMPsig is focused on web development and end user web interfaces. The LAMP environment (Linux, Apache, MySQL, PHP) is the SIG's starting point.
The LAMPSIG group will be showcasing the Synergy application.
Synergy is a software application for sharing a keyboard and mouse between multiple computers. It is used in situations where several PCs are used together, with a monitor connected to each, but are to be controlled by one user. The user needs only one keyboard and mouse on the desk — similar to a KVM switch without the Video.
Once the program is installed, users can move the mouse "off" the side of their desktop on one computer, and the mouse-pointer will appear on the desktop of another computer. Key presses will be delivered to whichever computer the mouse-pointer is located in. This makes it possible to control several machines as easily as if they were a single multi-monitor computer.
Synergy is able to integrate Unix, Linux, Macintosh and Windows machines, even down to the clipboard and synchronization of screensavers. Released under the terms of the GNU General Public License, Synergy is free software.