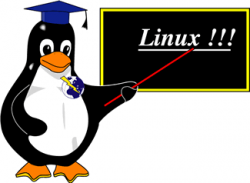 This class is full!   If you'd like to be put on a waiting list in case of vacancies, send an email to info@socallinuxexpo.org.
SCALE is proud to present their first ever Linux Beginner training class!   It's an intensive, two-day training class the same weekend as the Linux Expo, co-located with the Expo at the LAX Hilton.
Presented by volunteer trainers and presenters, students will come away with the ability to install and maintain a Linux operating system.  
Cost of the class is 25 dollars, which includes a bootable USB thumb drive, handouts, and a pass to the Linux Expo floor.  Note: Expo seminar access is not included because the training class will occupy all of both Saturday and Sunday).
Attendees are expected to bring a computer suitable for installing Linux.   Laptops are encouraged but desktops are acceptable also.  Installations will be Linux-only; dual-booting is beyond the scope of this class.  So bring a computer you can dedicate to Linux.
Minimum hardware requirements for Linux installation:*
CPU:  2.0 GHz
Disc Space:  10 Gigabytes for OS installation; recommend 20-30 Gigabytes of additional space for data
RAM: 1 Gigabyte
Network interface:  Wired: mandatory;  Wireless: optional
Speakers: optional
*for a good beginning Linux experience.  More is better, of course.
Schedule:
Day One  (Saturday, January 21st)
| | | |
| --- | --- | --- |
| Track | Duration | Comments |
| Linux Capabilities | 60 | Brief overview of server capabilities; in depth survey of the Linux desktop. Embedded, mobile, LiveCD, server, desktop. |
| The differences between Windows & Linux | 60 | Linux is NOT Windows.  Technical differences  - Windows blob; Linux modular; philosophical differences - closed vs. open source.   Building on the work that's come before.  Support model differences |
| Break | 15 |   |
| What is a Linux distribution?  Which one should I choose? | 45 | Discussion of representative distributions.  Pros & cons.  Packaging systems, apps available, distribution rationale.  5-10 mins each. |
| Lunch Break | 60 |   |
| Lab | 60 | Mini Lab / USB Live.  Getting everyone set up.  Evaluate hardware for suitability of installation of Linux |
| Break | 15 |   |
| Desktops and Applications | 90 | Demonstration of various desktops, browsers, office suites, music players, etc.  |
|   |   |   |
Day Two (Sunday, January 22nd)
| | | |
| --- | --- | --- |
| Installing Linux | 90 | Learn how to install and configure Linux from the ground up on your hardware. |
| Break | 15 |   |
| The Details | 90 | How to install updates & applications.  Printing, Flash support, other problems... Photo editing, IM, IRC, Webcam. |
| Lunch Break | 60 |   |
| Getting Networked | 45 | Introducing Networking with NetworkManager, Connecting to a Windows machine, etc. Troubleshooting wireless problems |
| Introducing the community (AKA how to get help) | 45 | How to get to the community.  How to ask questions, proper netiquette, etc.  Contributing by providing help and support.  How to get more involved. |
| Break | 15 |   |
| Open Lab | 60 | Problem solving, aided by roving proctors |
When:
Saturday, January 21, 2012 (All day)
to
Sunday, January 22, 2012 (All day)