Sha Stepter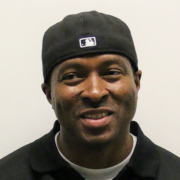 Presentations
At 18, Sha was sentenced to 27 years to life in prison for assault with a firearm, a crime that left a person critically injured. He ultimately served 18 years in the California state prison system before his sentence was commuted by Governor Jerry Brown in August of 2018 and he was released.
While in prison, Sha committed himself to change—immersing himself in multiple self-help groups that dealt specifically with accountability and remorse, and meeting with survivors of crime, which helped lead him to a deeper understanding of the devastating consequences of his actions.
He also dedicated himself to his education and discovered passions for both media production and entrepreneurship. He became chairman of the first ever Society of Professional Journalists inside a prison and co-chaired the ground-breaking TEDx San Quentin.
Upon his release, Sha founded the media production company Slow and Steady Media, Inc. He is a recurring guest lecturer at Stanford, UC Berkeley, and USF.