Full Stack Robotics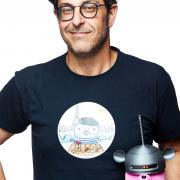 There has been plenty of talk about robots and the Internet of Things, but not a lot of reality. We're changing all that with our vision of "Full Stack Robotics".
"Full Stack Robotics" consists of:
- Front-ends & Human Interfaces
- Platforms & Tools
- Integrations
- Things
We will show a complete application with plenty of live demos of actual devices, along with some of the code it takes to make it all work. Time to get real about the Robot Evolution!
Time:
Saturday, February 21, 2015 -

18:00

to

19:00