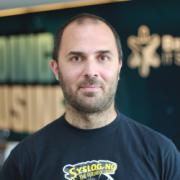 Q: Could you please introduce yourself and tell us a little about your background?
A: I am a system engineer working as community manager at Balabit, the company behind the syslog-ng logging daemon. I help distributions maintain the syslog-ng package, follow bug trackers, help syslog-ng users and talk regularly at conferences (SCALE, FOSDEM, Libre Software Meeting, LOADays, and so on). In my limited free time I am interested in non-x86 architectures, and work on one of my PPC or ARM machines.
Q: You're giving a talk on Get the most out of your security logs using syslog-ng. Without tipping your hand on the actual talk, can you give us an idea of what we might expect?
A: I will start with a quick introduction to logging and syslog-ng. Next I show the most important tools for dealing with security-related log messages in syslog-ng, like parsing messages or enriching log messages with external information. After the basics of syslog-ng configuration I will also describe a few interesting uses of syslog-ng from the security point of view, like creating a heat map from firewall logs.
Q: Is this your first visit to SCALE? If so, what are your expectations? If not, can you give us your impressions of the event?
A: It is my third visit to SCALE. I am returning both for the great talks and for the fantastic networking opportunities: I can talk to many syslog-ng users at the event and collect valuable feedback that you can get only in personal discussions.
Q: Is there anything else you'd like to add?
A: See you at SCALE! If you are using syslog-ng in your product or organization, or just have an interesting logging-related use case or problem, let me know. For example, last week I heard that National Instruments uses syslog-ng in its real-time Linux devices. You can find me at the Balabit booth in the exhibition area or at my talk in the security track on Sunday, or @PCzanik on Twitter.