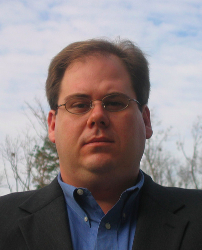 By Eric Van Johnson
 
Mark Hinkle works for Citrix as the Senior Director of Cloud Computing and will be speaking a couple times at SCALE11X. We had some time to talk to Mark about his talk at SCALE11X, Open Source, and Cloud.  
 
Q: Could you please introduce yourself and tell us a little about your background?
 
A: 

My name is Mark Hinkle and I am the Senior Director of Cloud Computing at Citrix where I am responsible for our open source evangelism efforts primarily around Apache CloudStack and Xen.org. I also run BuildaCloud.org a resource for DIY Cloud Computing. Before Citrix I was the VP of Community at Cloud.com which Citrix acquired in 2011. Before that I was the VP of Community at Zenoss where I grew their community of Zenoss Core users to over 100,000 members. Before I started "selling free software" I was Editor-in-Chief of LinuxWorld Magazine and wrote the book "Windows to Linux Desktop Migration for Business Users" (Thomson 2006). Back in 1995 I fell in love with Linux and since have been a proud open source fanboy. 
 
Q: How did you first get involved with the free & open source community?
 
A:  First, I used to be the Director of Technical Support for internet service provider, MindSpring, back in the 1990s and we relied heavily on open source to provide services. For example, every tech support rep had a shell account on a Debian Linux server. We used all the Bind tools (ping, traceroute, nslookup) to troubleshoot Internet access problems. We also had a team of web hosting reps who used Red Hat Linux (pre-Red Hat Enterprise Linux) desktops to support our web hosting customers. We also created a lot of tools using open source software Griswold, a vacation tracking system was hosted on Apache webservers with data was saved in Postgres. We also created a custom front-end for the Hylafax fax server that reps could administer through a web interface. At that time though I didn't understand how to contribute those inventions back to the open source community. Later on I started writing articles for LinuxWorld magazine about the Linux desktop and as a reporter got to interview a lot of open source community members. They taught me how to contribute to the open source community. Since then I have been active in the promotion and development of a number of open source projects. 
 
Q: Have you presented at SCALE before and if so what?
 
A: Computing as well as presenting on panels discussing open source and its role in Cloud Computing, along with former OpenStack lead Rick Clark and cloud computing end-users from Edmunds.com. 
 
Q: Can you tell us a little about your SCALE11x talk "Hitchhiker's Guide to the Cloud"?
 
A:  Just like Douglas Adams' "Hitchhiker's Guide to the Galaxy" provides valuable tips to traveling the Universe, the "Hitchhiker's Guide to the Cloud" should give a good overview of the emerging technologies for cloud computing and provide a resource to allow systems administrators to get a list of technologies to help them build, manage and take advantage of the benefits of cloud computing. 
 
Q: Who should be thinking about attending "Hitchhiker's Guide to the Cloud"?
 
A:  This presentation is geared towards users who want to understand the whole breadth of cloud computing. That includes  open source software for creating Amazon EC2 style clouds to platform-as-a-service that is similar to SalesForce.com's Force.com. You'll also learn about tools to manage the cloud. The overview will be most attractive to IT generalists and systems administrators. 
 
Q: What role do you feel Open Source plays in the Cloud? How important is it? 
 
A: In short open source software critical for the growth of cloud computing. Just as the LAMP stack was the foundation for the web new open source technologies are driving the deployment of cloud computing. If you look at Linux as the key for building the web virtualization technologies like Xen and KVM are the foundation for Infrastructure-as-a-Service (IaaS). IaaS orchestration platforms like Apache CloudStack, Eucalyptus and OpenStack are taking individual servers and pooling those resources into elastic compute infrastructure. If it weren't for Linux I don't think the Internet would have grown as quickly and pervasive as it has, open source software is providing that same fuel for cloud computing. 
  
Q:  Thank you for taking part in this brief SCALE 11X interview.
 
A:  You're welcome.