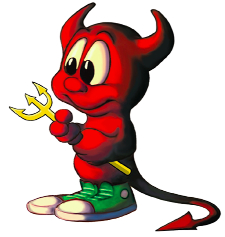 While the 'L' in SCALE stands for Linux, we like to think that as an event and a community we are welcoming to all open-source platforms. We have never been Linux specific. With this in mind, we have invited Dru Lavigne to write a guest post about activities from the BSD community at SCALE 11x. -Ilan 
Guest Post by: Dru Lavigne - Chair, BSD Certification Group
Members of the various BSD communities are pleased to announce that there will once again be a strong BSD presence at SCALE 11x.
As usual, there will be a BSD booth in the Expo area where we will be giving away PC-BSD 9.1 DVDs, FreeNAS 8.3 CDs, brochures, and cool swag. Be sure to visit early as the popular blinky horns tend to go fast. We will also be able to help answer your BSD questions and to take donations for the FreeBSD Foundation.
Kris Moore, the founder and lead developer of PC-BSD, will give a presentation on deploying FreeBSD and PC-BSD systems using a PXE boot installation server.
Dru Lavigne, lead documenation writer for FreeNAS, will give a presentation on extending NAS functionality using the FreeNAS plugins system.
The BSDA certification exam will be available on Sunday. This exam tests system administration skills on BSD systems. The BSDA exam objectives can be downloaded and you can register to take the exam at. The exam cost is $75.