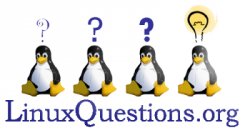 LinuxQuestions.org (commonly abbreviated LQ) is a community-driven, self-help site for Linux users. As of June 2007, it has over 300,000 registered members.  Started in 2000 by Jeremy Garcia, LQ is one of the most popular free software community sites and is reputed for its helpfulness.
The most popular section of the site is the forums, where Linux users can share their knowledge and experience. Newcomers to the Linux world (often called newbies) can ask questions and Linux experts can offer advice. Topics include security, installation, and networking. Currently available forums fall into the following categories: LinuxQuestions.org, Linux, Enterprise Linux, Other *NIX Forums, Non-*NIX Forums. As of January 2007, the forums had more than 2.5 million posts.
The LinuxQuestions moderators will be available to answer attendee questions regarding Linux, Open Source and about LinuxQuestions in the same friendly manner that they have come to expect in the LQ forums.