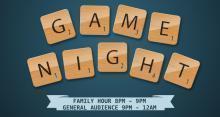 Join your fellow SCaLE attendees for drinks, games, food and fun at our Game Night reception on Saturday!
Casino Night
Beat the odds and enjoy gambling fun with our Casino Night theme this year.  We have Poker, Blackjack, Roulette, and Craps. Join us for the opportunity to test your gamblin' skills.
Escape Rooms
What's the perfect activity to complement a casino night party?  Gather your friends and Rob Casino Night!

Your team will have to conquer a set of puzzles to break into the casino party's safe and clean out the casino owner's cache to win. Winners get to use the extra chips from the safe to play at the casino party games. 

The team with the fastest time wins prizes.
 
 
Virtual Reality Realm
 
Join the magicians behind the black curtain in our VR Realm.  Our staff will teach you how to play in 3D space.  It is an unforgettable experience.
Mario Karts Racing
Race against your friends in the fantastic world Mario Kart. Race up to 30 cars at once and see who claims the best driver title.
The Pollock Zone
The Pollock zone returns for a second year in a row. Learn how to paint with Sphero robots at our community canvases.  These programmable remote control artists are inspired by the style of Jackson Pollock.
Nerf Dino Hunt
Ever wondered what it would be like to hunt dinosaurs? Ever wonder what being chased by a dinosaur feels like? You can answer both these questions this year at Game Night. Party Xtreme will be bringing back their Nerf Wars with a promordial twist this year. Fierce dinosaurs are invading our space and we need you to protect us all!
Blanketfort Con
The infamous DEFCON pajama party construction project comes to SCaLE.
Horizontal Masterpiece
We're riffing off the special sidewalk chalk artwork you'll find outside the conference this year.  Lie down and outline your whole group.  Or be a kid again and let your imagination run free across the light blue canvas.
Arts & Crafts
Dive into our art supplies and get creative.  Last year's bead work was beautiful.
Movie Night
Our little theater will be playing family friendly movies all night in the Quiet Room.
How Game Night Works
Game Night starts late enough to give everyone time to grab dinner first.  We start with Family Hour, which runs from 8-9pm.  That's when children bring their grownups and we have special entertainment and kid prizes.  After 9pm, the doors open for general admission, and we party until midnight.  To keep you going we serve a reception at 9pm, and late night snacks at 10:30pm.  This year we have casino-themed appetizers.  And once again, look for the new dessert surprise!
Schedule:
Family Hour Saturday, March 7, 2020 - 20:00 to 21:00
General Admission Saturday, March 7, 2020 21:00 to 23:45
When:
Saturday, March 7, 2020 -

20:00

to

23:45