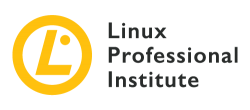 Linux Professional Institute is the global certification standard and career support organization for open source professionals. With more than 600,000 exams delivered, it's the world's first and largest vendor-neutral Linux and open source certification body. LPI has certified professionals in over 180 countries, delivers exams in 9 languages, and has hundreds of training partners.
Linux Professional Institute Exam Lab
Linux Professional Institute is thrilled to be offering exams at a discounted rate exclusively to SCaLEx17 attendees. While at SCaLE, take the Linux Essentials for $75 USD, DevOps Tools Engineer for $99 USD or a LPIC for $99 USD.
Please register in advance for any exams. You have the opportunity to take up to 2 exams per session:
Linux Professional Institute Preparation Sessions
Not ready to take the exams just yet? LPI certified partners will be offering a Linux Essential and DevOps Tools Engineer exam preparation session on Friday, March 8th.
Register for our complimentary exam preparation sessions! Each session will be lead by a LPI certified presenter that will be able to field any technical questions and help prepare you before you take the exam. Participate and learn more about the importance and understanding the objectives, exam structure, and why obtaining your certification will be professionally beneficial. Come prepared with questions!
Schedule:
Friday, March 8 - Exam Prep
         DevOps Tools Engineer Preparation Session
          9:00am - 11:00am - Room 103
          Presented by: Aleksey Tsalolikhin, (Vertical Sysadmin)
         Linux Essentials Preparation Session
         11:00am - 12:00pm - Room 103
         Presented by: Mike Weilgart, Vertical Sysadmin 
Saturday, March 9 - Exams - Room 205
Sunday, March 10 - Exams - Room 205
When:
Friday, March 8, 2019 - 10:00