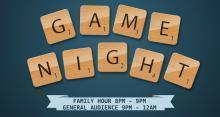 Join your fellow SCaLE attendees for drinks, games, food and fun at our Game Night reception on Saturday!
Escape Rooms
There's no way any single attraction could top last year's NASA-themed Escape Room...So, this year we are bringing in TWO brand new escape room puzzles!  Find your way out of both MacGuffin's and the gypsy-themed Lavinia's Den.
Mario Karts Racing
Race against your friends in the fantastic world of robotic camera cars.  xSCAPE Games' new prototype system built on Python gives drivers a track-level reality experience.
The Pollock Zone
Learn how to paint with Sphero robots at our community canvases.  These programmable remote control artists are inspired by the style of Jackson Pollock.
The VR Realm 
The Virtual Reality Realm has four fields and a whole new twist this year.  You'll find it behind the black curtain in the Big Hall.
Nerf Wars
Party Xtreme and Fun4You are working together this year to construct a giant 3-D Battle Cage for no-holds-barred foam warfare.  The Geneva Convention has no jurisdiction in the Big Hall, so bring your enemies.
Hey, It Works!  Hands-On Tech Museum
Don't leave until your propeller beanie is spinning on high.  Bring your old cartridges because all this vintage computing gear works, and we're setting it up for attendees to use. 
Quiet Room
After a noisy night in the Big Hall, you can decompress in Ballroom I through the rear corridor.  Bring your friends and favorite board games, and take a table.
Gigantic Games
Our Garden Party features kid-friendly games like giant chess and checkers, and Big Bowling.  Adults love to let out their inner architects with our super-sized building blocks.  And people of all sizes turn into Lilliputians inside the Gargantuan Game Console.
Penny Arcade
The arcade this year features full-sized Skeeball, Foozball, and a vintage video game console (watch this space for the reveal of which one!).
Tourney Time
The Colliseum in Ballroom J will have full sized pool tables and ping pong tables, with the elbow room you need to play comfortably all night.
Arts & Crafts
Dive into our art supplies and get creative.  Last year's bead work was beautiful.
Movie Night
Our movie starts at 9:30pm.  Feed the kids first, then look for the indoor tents.
How Game Night Works
Family Hour runs from 8-9pm, that's when children bring their grownups and we have special entertainment and kid prizes.  After 9pm, the doors open for general admission, and we party until midnight.  To keep you going we serve a reception at 9pm, and late night snacks at 10:30pm.  This year we are bringing back the infamous Penguin Army Appetizers.  And look for the new dessert surprise!
When:
Saturday, March 9, 2019 -

20:00

to

23:45