Teaching the Blinky Flashy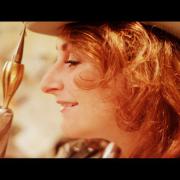 What can you do to help close the gender gap in STEM? How about teaching an eTextiles workshop?
Getting students -- especially girls -- involved with STEM is crucial, and research has shown hands-on projects that bridge the gap between craft and computing are a great entry point.  Making your own eTextiles, or textiles that directly incorporate conductive fibers, is an engaging, hands-on introduction to physical computing, electrical engineering, and the Internet of Things.  Plus, it's really fun to make your clothes light up!
A well-run eTextiles workshop offers students a wealth of benefits, including:
introducing the basic principles of physical computing offers serve as an attractive entry point to computer science for girls and young women;

allowing students to express their own creativity;

creating a sense of empowerment by enabling students to modify their own environment;

providing the basis for further exploration of wearable tech and small circuitry; and

taking full advantage of the array of benefits that hands-on learning provides.
But these benefits don't come without the occasional heartache. Rather than experiencing those heartaches for yourself, come to this session to learn how to make your eTextiles workshop run without a hitch, based on my experience teaching eTextiles to more than 225 young women.  
We'll cover:
preparation, instructions & supplies;

what information should be included in an eTextiles workshop -- and what can be skipped;

techniques to make workshops run more smoothly;

common pitfalls and fixes; and

variants to accommodate differing levels of expertise, amounts of time, budget, etc.
You'll leave the presentation excited, prepared, and rarin' to teach!
Time:
Sunday, March 11, 2018 -

16:30

to

17:30