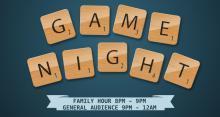 Join your fellow SCaLE attendees for drinks, games, food and fun at Game Night on Saturday!  This year we are celebrating the 20th anniversary of Open Source with the Open Source Initiative.  And Troy, our SCaLE mascot, is turning 16.
Escape Room
Our brand new attraction this year is a NASA-themed Escape Room for puzzle solvers and intrepid adventurers.  Test your skills and Escape SCaLE before it's too late!
The VR Realm 
Back for its second year, the Virtual Reality Realm adds an alternate dimension to Game Night.  This was such a big hit, we will have THREE arenas this year.
Nerf Wars
The Geneva Convention has no jurisdiction in Exhibit Hall A.  Game Night goes to war this year with a whimsical inflatable tank.  Our party organizers will be operating team tournaments all night, so bring your enemies.
Gigantic Games
Our Garden Party features kid-friendly games like giant chess and checkers.  But last year it was the adults who let out their inner architects with our super-sized building blocks.  And people of all sizes turn into Lilliputians inside the Gargantuan Game Console.
Avoid the Tilt
The pinball fans who follow our offerings every year have a lot to be excited about with Game Night 16x.  We are bringing in Iron Man and Lord of the Rings.
Tourney Time
Game on!  We'll have a full size pool table, air hockey, ping pong, and foozball for ongoing matches with your friends all night.
RC Car Races
Move over, Tesla, your technology pales in comparison to our fleet of 14 electric RC cars.  And no one gets pulled over on our private track at SCaLE Downs.  
Movie Night
If you're looking for a little quieter downtime, our movie starts at 9:30pm.  The theater runs all night.
Ice Sculpture Demonstration 8pm-10pm
Watch as our penguin mascot, Troy, comes to life from a large block of ice with the help of a chainsaw artist.  Then put on some winter props and he'll pose with you for a 16th birthday picture.
How Game Night Works
Family Hour runs from 8-9pm, that's when children bring their grownups and we have special entertainment and kid prizes.  After 9pm, the doors open for general admission, and we party until midnight.  To keep you going we serve a reception at 9pm, and late night snacks at 10:30pm.  But this year's custom Open Source snacks might be too cute to eat!
When:
Saturday, March 10, 2018 - 20:00