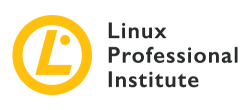 Linux Professional Institute (LPI) will hold exams on Saturday, March 4, and Sunday, March 5 at Room 205. Following exams are planned for that day: Linux Essentials, LPIC-1, LPIC-2, LPIC-3.   If attendants would like to register for exams online, they can do so on by using the LPI registration page.
More about certifications offered by LPI can be found on the LPI website.
A special price on the exams will be offered in the support of the show: 75 USD for Linux Essentials, and 99 USD for LPIC-1, LPIC-2, LPIC-3. 
Payments can be made in cash or credit card at the door, or in advance at registration.
Schedule:
Saturday, March 4 at 11 AM
Saturday,March 4 at 3 PM
Sunday, March 5 at 11 AM
Sunday,March 5 at 3 PM
When:
Saturday, March 4, 2017 - 11:00

to

Sunday, March 5, 2017 - 18:00