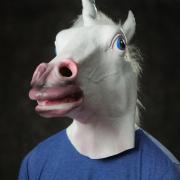 VictorOps' Nick Isaacs -- no, he's not really a unicorn -- took some time from his schedule to talk to the SCALE Team about his presentation on SCALE Saturday at 4:30.
Q: Could you please introduce yourself and tell us a little about your background?
A: Hi there, I'm Nick, a recovering Canadian and a genuine Millenial. I spend my week days helping to build the platform infrastructure at VictorOps, and my weekends navigating mountains on my bicycle and climbing rocks with my hands. I also write talks for conferences. I have fallen in love with the Scala environment and the actor model of programming and am excited to share my story in this field with the audience.
Q: You're giving a talk on "Stateful Architectures in Akka."  Without tipping your hand on the actual talk, can you give us an idea of what we might expect?
A: Scaling is something that all successful projects/businesses have to deal with. We have decided to approach this problem using the actor model, and Akka specifically.
Q: Is this your first visit to SCALE? If so, what are your expectations? If not, can you give us your impressions of the event?
A: Yes this is my first visit! My expectations are as follows:  warmer weather than Boulder;  listen to some engaging talks that I can learn from; and  make at least one new friend in the Linux community.
Q: What is your favorite dad joke?
A: This hardly seems like an appropriate time to be asking this question. Perhaps I can answer it after my talk.
Q: Is there anything else you'd like to add?
A: A big thank you to the SCALE organizers for allowing me to speak, this is the second talk I have ever given as part of the software community and I am very much looking forward to it.
SCALE Team interview by Michelle Klein-Hass