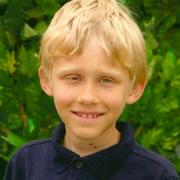 So what can a 65-year-old computer teach us now? Justin King will tell us in his talk of the same name on SCALE 13x Saturday at 11:30. The SCALE Team took a few minutes to talk with Justin about his presentation.
Q: Could you please introduce yourself and tell us a little about your background?
A: I am Justin King. I am 13 years old and I attend La Colina Junior High in Santa Barbara. I love to program using Web languages (HTML and JavaScript). I also like making games and emulating others that I have to make it easier to play. I started programming when I was 5.
Q: You're giving a talk on "What a 65-Year-Old Computer Can Teach Us Now." Without tipping your hand on the actual talk, can you give us an idea of what we might expect?
A: I will be talking about how the WITCH-E, my Web emulator of the oldest currently working fixed-point decimal computer, can be used for education and what the WITCH (the original computer) can teach us now. Bring your laptop for a live demo and tutorial at the end.
Q: Is this your first visit to SCALE? If so, what are your expectations? If not, can you give us your impressions of the event?
A: This is not my first time at SCALE. I have gone for three years and presented at the last two. SCALE is my favorite place to go each year. There are fun, interesting talks and booths, and I also help with Game Night, where I make duct tape creations with kids. After my shift, I usually go to the Munchkin table with Stephanie Lockwood-Childs and play a few games. It is always fun!
Q: Is there anything else you'd like to add?
A: This talk is one hour long. I will make this as interesting and interesting as possible. Look out for any face you can find, including in text as emoticons. There will be a quiz at the end, so pay attention to get candy!
[SCALE Team interview by Larry Cafiero]