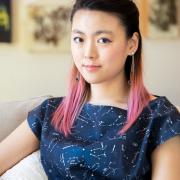 The SCALE Team is excited to share that Dr. Kitty Yeung will be joining us as Sunday morning's keynote speaker.

Dr. Kitty Yeung is a physicist, engineer and artist, in addition to her role leading incubation projects at Microsoft. To drive integration between science and art, she also founded a sustainable and STEAM fashion brand, Art by Physicist, and founded the fashion-tech initiative at Microsoft. 

Prior, Kitty worked as a Senior Quantum Architect at Microsoft Quantum, Manager and Creative Technologist of the Bay Area Microsoft Garage Program; UX Designer at Intel Maker Group; Research Scientist and Hardware Engineer at Intel Silicon Photonics. She's the producer of Microsoft's quantum learning materials, including the MS Learn quantum modules and the Quantum Learning website; author of comic series Quantum Computing & Some Physics; lecturer at HackadayU and Microsoft Reactor on Quantum Computing. She received her Ph.D. in Applied Physics from Harvard University in 2015 (Thesis: Engineering Plasmonic Circuits in 2-Dimensional Electron Systems) and a M.Sci., B.A. and M.A. in Natural Sciences.

https://www.socallinuxexpo.org/scale/20x/presentations/keynote-creativit...