Guillermo Antonio Amaral Bastidas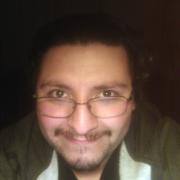 An incredibly handsome open-source software engineer that has contributed to well known projects like KDE and PC-BSD. Despite the fact that software engineering is his calling, he dabbles in many other areas (including but not limited to): radio broadcasting, podcasting, comic illustration, electronics and home-brew.
He's currently working on his own project, Marshmallow Game Engine, a BSD licensed project focused on creating a cross-platform framework for the creation of retro video games.