Aleksey Tsalolikhin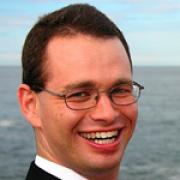 CTO (Chief Training Officer)
Aleksey has been a UNIX/Linux system administrator for 16 years. Wrangling EarthLink's server farms by hand during growth from 1K to 5M users, he focused on raising efficiency and happiness of system administrators through effective training in sysadmin basics, configuration management, documentation, study and communication.
Aleksey is Director of Operations and Quality Control at Deluxe Digital Cinema, and Chief Training Officer at Vertical Sysadmin, Inc.
Vertical Sysadmin delivers training on fundamentals of Linux System Administration; and training and consulting on configuration management with CFEngine. Our approach balances theory and practical. We make sure our students thoroughly understand the basics and can DO.
Here is what our students say:
"Very personal approach to teaching."
"No bullshit."
"You are the best instructor I've had."
If you'd like to train, please get in touch with me.