Current Year:
Home
2002 Archive:
Introduction
Location
Speakers
Presentations
Exhibitions
Event Pictures
Schedule
Sponsors
Committees
Ray Steding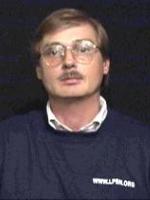 Ray Steding is the founder of the Linux Public Broadcasting Network. A network engineer since 1989, he is currently an independent systems integrator within the greater Los Angeles area.

Ray Steding's presentation is "Social Micro Trends and the Linux Public Broadcasting Network."

What true public access may mean for society. And, how the LPBN fits into the current revolution of social micro trends.

The presentation includes:

- Who the LPBN content providers, sponsors and beneficiaries are and why they are participating.

- Public benefit videos as a form of advertising.

- LPBN as an extension of the opensource software movement.